American House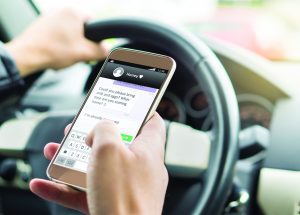 Distracted driving causes more than 300,000 accidents, annually. That's one in every four, making it the number one cause of automobile accidents in the U.S. Although studies show texting while at the wheel is the leading cause of death among teens, this dangerous practice isn't limited to inexperienced, young drivers. Seniors are texting while driving too.
With so many stimuli competing for our attention, even the most experienced driver can easily become distracted. Flashing lights, impaired vision caused by a blind spot or holding a phone conversation – even when using a hands-free device – can be distracting. It's important drivers understand the risk and responsibility of driving every time they hit the road, exercising caution and remaining alert.
Nationally ranked at number two, the State of Florida has one of the highest rates of automobile accidents caused by distracted drivers. Whether texting, eating, talking with passengers, or changing the radio station, the second it takes to remove your eyes from the road, or your hands from the steering wheel, are critical. Consider this: If you are driving at a speed of 55 mph and you take your eyes off the road for five seconds, you will continue to travel a distance of 120 yards, or the length of an entire football field. When operating a vehicle, losing focus for even one second, could cause a fatal accident.
Since most seniors are experienced drivers, it's easy to overlook the gravity of distracted driving. However, it's important to know what triggers to avoid, so the road ahead stays in full view.
There are three standard types of driving distractions:
• Visual
• Manual
• Cognitive
Any activity that causes you to take your attention off of the road can be a hazardous distraction. Still, texting outranks them all and is especially dangerous because it combines all three types of driving distractions.
Operating any motor vehicle is a privilege and should be exercised with care. Don't allow simple tasks like texting, eating, or making a phone call, cause an automobile accident. If you have concerns about driving, make an appointment to discuss them with your family physician today.
At American House Senior Living Communities, we know driving is an important factor when maintaining your independence, and we understand how difficult losing that privilege can be. Let us help. Our residents enjoy concierge and complimentary transportation services, so whether you've got a doctor's appointment or plans for a night out on the town, we can provide a safe, comfortable ride to nearby destinations.
American House offers Independent Living, Assisted Living and Memory Care services so you can enjoy access to quality housing, exceptional services, amenities, and the freedom to choose. Founded in 1979, we've committed nearly 40 years to enriching the lives of those we serve. Come experience it all for yourself. Let us show you why so many seniors call American House home!
References
1. Vegega, M., Jones, B., and Monk, C. (2013, December). Understanding the effects of distracted driving and developing strategies to reduce resulting deaths and injuries: A report to congress. (Report No. DOT HS 812 053. Washington, DC: National Highway Traffic Safety Administration.
2. National Highway Traffic Safety Administration. Facts and Statistics. [cited 2016 Feb 23] Available from: http://www.distraction.gov/stats-research-laws/facts-and-statistics.html.
American House Senior Living Communities
(239) 243-9557
AmericanHouse.com
14001 Metro Parkway
Fort Myers, FL 33912