By Greg Pascucci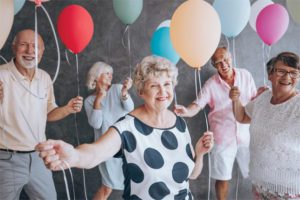 According to the latest numbers, there are as many as 72,000 centenarians living in the United States and about 450,000 worldwide. September 22 is National Centenarian's Day, founded to bring attention to the rich history and wisdom of those 100 years of age and older.
At The Carlisle Naples, an active retirement community in North Naples, the community is home to many residents who have lived over a century of life. From competing in the annual Senior Olympic Challenge to participating in The Carlisle's wealth of fitness and exercise classes, these residents are proof that age is just a number.
Study after study aims to unlock the keys to these super-agers' longevity. Among the most cited responses have been:
Regular exercise
Seniors in their 70's, 80's and beyond can reap the benefits of exercise. Low-impact exercises such as Yoga and Tai Chi are perfect for improving balance and flexibility, keys to preventing a fall, while more robust classes like Zumba and weight lifting can improve muscle strength.
The Carlisle offers more than 10 opportunities for fitness each week. From a brisk walk along the community's meandering paths to an onsite fitness center, lifelong fitness enthusiasts and those just beginning a more active lifestyle will find the community's amenities both inviting and invigorating.
Find the joy in each day
Research has found that older adults who report being happy and content are significantly healthier than their counterparts. Centenarians tended to find the joy in each day rather than focus on things that were beyond their control. Experts believe that even if you don't have a joyful disposition, you can re-train your brain. Consider a gratitude journal or perform random acts of kindness.
Embrace technology
Older adults are among the fastest growing groups of internet users. In addition to the internet, there is a whole world of technology that seniors are encouraged to try. Social media, for example, can be used to keep in touch with grandchildren or even find a former college classmate. Apps, available on smartphones and tablets, are useful for paying bills, scheduling reminders or keeping track of doctor's appointments.
The Carlisle's monthly Tech Buddy group is a great resource for residents wishing to learn how to master their devices. A tech guru visits the community to provide tips on using smartphone features, using voice-activated assistants such as Siri and downloading from the app store.
Keep Your Mind Sharp
The old adage, "Use it or lose it," is especially true of brain health. In fact, new research suggests our brains continue to develop new neurons even as we age. There are numerous things you can do to boost your brain power including trying something new, learning a foreign language, forming social connections and eating a balanced diet.
Thanks to The Carlisle's maintenance-free lifestyle, residents find they now have more free time to pursue new interests and hobbies. Weekly activities such as Bridge offers both an opportunity for socializing as well as improving brain health as the game has been shown to have a wealth of benefits on the brain. A "Money and Investing" group also challenges residents to stay abreast of the latest financial news while virtual gaming on the Wii console encourages players to step outside their comfort zone and embrace technology typically reserved for their grandchildren.
"With so many opportunities for successful aging found at senior living communities, it's no wonder that research shows there is a correlation between living in a community-setting and longevity," said The Carlisle's Executive Director Bill Diamond. "At The Carlisle, our centenarians continue to be among our most active, vibrant and engaged residents and inspire their neighbors as well as Carlisle employees."
Located at 6945 Carlisle Court in Naples, The Carlisle offers spacious one-and two-bedroom residences, weekly housekeeping and flat linen services, basic cable TV, all utilities except telephone, and a complimentary full breakfast plus choice of lunch or dinner in the community's gourmet-style restaurant. For more information about the community, please call 239-221-0017 or visit www.TheCarlisleNaples.com.
The Carlisle, a luxury, resort-style senior living community in North Naples, offers both Independent and Assisted Living lifestyles. Available on a monthly fee basis, the ECC-licensed and CARF-accredited community boasts a full range of services and amenities including 12-hour restaurant dining, housekeeping, transportation and activities. Located on Airport-Pulling Road, between Pine Ridge and Immokalee Roads, the award-winning community's lush tropical environment is highlighted with meandering walking paths around three lakes and tranquility gardens. For more information or to schedule a tour, please call Director of Marketing Greg Pascucci at 239-221-0017.
Luxury Rental Retirement Living
6945 Carlisle Court, Naples, FL 34109
239-221-0017 . www.srgseniorliving.com