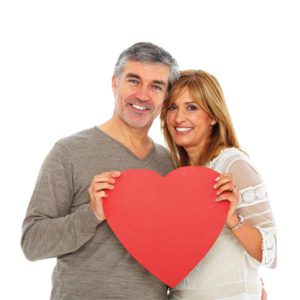 By Jordan Hopkins, MD, FACaC
Heart attack and stroke are on the rise amongst women. All too often women overlook the potential warning signs and symptoms that plague them. One common reason is that women's symptoms are frequently confused with other disorders, and women's warning signs for heart and vascular disease can be quite different than those for men. As a result, many women are uncertain of their gender's unique signs of potentially serious disease. However, there is one commonly shared risk factor that is prevalent in both men and women–ignoring symptoms. Failing to act on such symptoms could result in you missing out on an invaluable opportunity to intervene in the disease process early, BEFORE problems reach a permanent or irreversible stage.
Heart disease is often caused by the narrowing of the arteries over time, typically due to a build-up of atherosclerotic plaque that can in some cases cause a complete blockage of the blood vessels or coronary arteries. Heart disease is the number one killer of women, responsible for 1 out of every 3 women's deaths each year. With so much focus on other diseases that affect women, such as breast cancer and autoimmune disorders, heart disease is often overlooked and underestimated. One woman dies every minute from cardiovascular disease, often from a problem that was completely preventable if recognized and treated early.
Female Heart Attack Symptoms:
• Chest pain or tightness
• Nausea or GI upset
• Shortness of breath
• Fatigue
• Excessive sweating
• Rapid heart rate or palpitations
• Pain in the jaw
• Shoulder, neck, or upper back pain
• Anxiety
Male Heart Attack Symptoms:
• Chest pain or tightness
• Dizziness or Lightheaded
• Tired/Fatigue
• Shortness of breath
• Anxiety
• Rapid heart rate or palpitations
• Sweating
• Arm/Shoulder/Jaw Pain
Many factors play a role in how heart disease affects women; a leading culprit is hormonal changes. When hormones are out of balance, additional factors such as high cholesterol, high blood pressure, and weight gain arise, all of which contribute to the development of heart disease.
Other risk factors that can contribute to women developing heart disease include a history of gestational hypertension or gestational diabetes. Along with menopause and the related hormonal fluctuations, eating an unhealthy diet, having uncontrolled hypertension or high cholesterol, being overweight, mental anxiety or unresolved stress, and tobacco exposure all play a considerable role in heart disease development.
Coronary Microvascular Disease MVD
The tiniest blood vessels of the heart are connected to the larger vasculature and provide a vital role in regulating blood flow and utilization within the heart. This delicate network of vessels can become damaged, blocked, or otherwise dysfunctional, thereby resulting in reduced or abnormal cardiac blood flow. This disorder is much more common in women versus men.
As the American Heart Association explains, "Women may be at risk for coronary MVD if they have lower than normal estrogen levels at any point in their adult lives. Low estrogen levels before menopause can raise younger women's risk for coronary MVD and can be caused by stress as well as ovarian disease." The AHA goes on to explain "Women who have high blood pressure before menopause, particularly high systolic blood pressure, are at increased risk for coronary MVD. After menopause, women tend to have more of the traditional risk factors for atherosclerosis, which also puts them at higher risk for coronary MVD."1
For Both Men and Women, Keeping Track of Your Numbers Could Save Your Life:
• Hormones
• Cholesterol
• Blood Sugar
• Body Mass Index (BMI)
• Weight and Waist Circumference
• Blood Pressure
• Regular Diagnostic Testing
Depression can play a role in one's cardiovascular health, both pre- and post-heart attack. For example, stress can lead to high blood pressure, arterial damage and a weakened immune system, which can exacerbate or even trigger a heart attack. For those individuals that have been diagnosed with heart disease or those that have undergone heart procedures, depression can linger for months following their episode. If the condition is not dealt with, it can lead to chronic depression, which will hinder healing and may precipitate other health problems.
Men and women can be treated successfully if heart disease is caught early, thereby allowing people to lead a completely normal life. Keeping one's weight down with a healthy diet, while also keeping the heart muscle strong with oxygen-rich blood flowing through the cardiovascular system via regular exercise are helpful lifestyle changes that you can start to institute today. Medications like aspirin, ACE inhibitors, beta blockers, and cholesterol lowering drugs may also be helpful, though you should discuss the matter with a healthcare professional to see which steps are right for you. In certain situations, stents, angioplasty, surgery, and other procedures may even be necessary.
In addition, there are specific diagnostic screening tests that your cardiologist can provide to evaluate the health of your heart and vascular system; these include blood tests, stress tests, EKGs, echocardiograms, holter monitors, vascular ultrasounds, ABIs, etc.
If you believe you are having a heart attack or stroke, call 911! If you are experiencing symptoms that could reflect underlying heart or vascular disease, contact your cardiologist immediately.
Hopkins Cardiovascular Associates
2401 University Parkway, Suite 204A
Sarasota, FL 34243
941-355-5336
Hopkinscardiovascular.com
References:
1. American Heart Association. Coronary Microvascular Disease: "What is Coronary Microvascular Disease (MVD)?" heart.org 2019, Dallas, Tx.