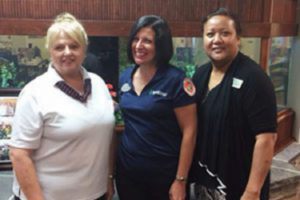 Just like a resident moving in, Brookdale President and CEO Cindy Baier showed up at Brookdale Wilsonville with her bags packed.
She wasn't at the Oregon Independent Living community for a corporate meeting; she was there to roll up her sleeves and see what a day is really like at the community. From kitchen duty to housecleaning, she was prepared to tackle every position.
"She immersed herself in the day of a life. She was all in," said Kathy White, executive director at Brookdale Wilsonville. "She changed into khakis and a Brookdale polo and went to work with our housekeeper."
Since moving into the top role at Brookdale in February of this year, Baier's been taking every opportunity to visit residents, associates and shareholders. This is part of her commitment to better understand the challenges communities face and what the corporate office can do to support and simplify processes.
While in Oregon, Baier also visited Brookdale Oswego Springs, a personalized living community, where she started her day at 4 a.m. to tackle kitchen duties for breakfast and lunch, served residents, washed stacks of dishes and reset the dining room for meals.
"What I love most about visiting communities is seeing our mission come to life. The passion and dedication of our associates working together to enrich lives is so inspiring," said Baier. "To see the relationships and the genuine affection between our associates and our residents is truly moving. The work that happens in our communities is just so important.
Baier's commitment to servant leadership made a lasting impression on White and her team at Brookdale Wilsonville.
"I could not be more proud that she felt good about our team and community," said White.
Lucinda M. Baier
President, Chief Executive Officer and Director
Lucinda M. Baier has served as Brookdale's President and Chief Executive Officer and as a member of the Board since February 2018, after having served as Brookdale's Chief Financial Officer since December 2015. In addition to experience as a seasoned Chief Financial Officer in several companies, she has had multi-billion dollar P&L responsibility, served as an executive officer of a Fortune 30 company, been the Chief Executive Officer for a publicly-traded retailer and has served for more than a decade as a Board member of public and private companies, including serving as the Chairman of the Board.
Prior to joining Brookdale, Ms. Baier served as Chief Financial Officer of Navigant Consulting, Inc., a specialized global expert services firm, since March 2013 and its Executive Vice President since February 2013. Additionally, Ms. Baier has served as the Chief Financial Officer of Central Parking System, Inc., Movie Gallery, Inc., and World Kitchen, LLC. Ms. Baier's experience also includes serving as the Senior Vice President and General Manager of Sears, Roebuck and Co.'s Credit and Financial Products business and serving as the Chairman of Sears National Bank. Ms. Baier currently serves as a member of the board of directors of the National Investment Center for the Seniors Housing & Care Industry (NIC) and the Nashville Health Care Council, and previously served from 2007 to 2016 as a member of the Board of Directors and Audit Committee of The Bon-Ton Stores, Inc. Ms. Baier is a Certified Public Accountant and is a graduate of Illinois State University, with Bachelor and Master of Science degrees in Accounting.
Brookedale Senior Living
brookdale.com
1. Brookdale Bradenton Gardens
Assisted Living
Alzheimer's & Dementia Care
5612 26th Street West
Bradenton, Florida 34207
(941) 756-5571
Assised Living Facility # AL6528
3. Brookdale Palma Sola
Assisted Living
450 67th Street West
Bradenton, Florida 34209
(941) 794-5657
Assisted Living Facility # AL4712
3. Brookdale Pointe West
Alzheimer's & Dementia Care
6101 Pointe West Boulevard
Bradenton, Florida 34209
(941) 795-5533
Assisted Living Facility # AL8527