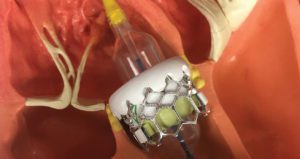 On Friday, July 12, 2019, the first Trans-Catheter Aortic Valve Replacement (TAVR) ever performed in Charlotte County, was performed at Bayfront Health Port Charlotte. TAVR is a minimally invasive approach to treat a condition known as aortic stenosis, (narrowing of the aortic valve, which separates the main pumping chamber of the heart from the rest of the body). Now patients no longer have to travel out of the County to receive this life saving treatment.
Aortic stenosis is a condition that presents with symptoms of shortness of breath with activity, chest pain, and even fainting spells (syncope). Over time, this places significant stress on the heart, resulting in weakening of the heart muscle, and ultimately, heart failure. Untreated, the condition carries a very poor prognosis, with an average survival of just two years.
The treatment for the last several decades has been surgical replacement of the aortic valve through an incision in the chest. This procedure also requires general anesthesia, and stopping the heart while the patient is placed on a heart lung machine, to enable the valve to be removed and then replaced. While very successful, with excellent results, the procedure was not always well tolerated by elderly patients.
The TAVR procedure was originally designed for inoperable or high risk surgical patients. Studies over the last several years have shown that it is also beneficial in intermediate risk patients, and most recently, low risk patients.
"TAVR is one of the most innovative therapies of our generation," says Farhan Majeed, M.D., MHS, FACC, FSCAI, interventional cardiologist and Director of the Structural Heart Disease Program at Bayfront Health Port Charlotte. "It gives patients an option that they have never had before. Over 7% of people over 65 years of age have aortic stenosis. This therapy now gives all patients the opportunity for minimally invasive heart valve replacement, allowing them to fully recover within 1 to 2 days of the procedure and go home sooner from the hospital."
During the TAVR procedure, a balloon-expandable valve or self-expanding valve is delivered to the heart via a catheter inserted into the femoral artery in the groin. The new valve is then deployed inside of the native aortic heart valve, thus enlarging the area for blood to flow out of the heart. There are no incisions, and the heart does not need to be stopped, allowing for much faster recovery than traditional surgical valve replacement.
The first TAVR at Bayfront Health Port Charlotte was performed by a cardiovascular multidisciplinary team with Dr. Majeed and Luis Dibos, M.D., FACS, cardiac surgeon and Chief of Cardiac Surgery at Bayfront Health Port Charlotte, leading the procedure.
Dr. Dibos has been involved in over 100 TAVR procedures and has performed over 6000 cardiac surgical cases, including over 1000 surgical aortic valve replacements during his career. Along with Dr. Majeed, who has performed over 10,000 cardiac catheterization procedures and over 500 structural heart procedures including 300 TAVRs, they bring an enormous wealth of experience and innovative expertise to this area.
"It is very exciting that we are now offering this state of the art treatment at Bayfront Health Port Charlotte," says Dr. Dibos. "For the first time in this area, patients no longer need to travel long distances to undergo this procedure." He also stresses that "some patients with severe aortic stenosis ignore their symptoms for fear of having to have surgery to cure their condition. They now have this new and exciting minimally invasive technology available to them, which has helped thousands of patients throughout the world, improving their symptoms, and extending their survival."
"We are constantly looking at new ways to improve the quality of care and services we provide to the residents and visitors to Southwest Florida," adds Tim Cerullo, CEO for Bayfront Health Port Charlotte and Punta Gorda. "This is why we innovate and do what we do. In essence, we are bringing hope to people with no hope. We proudly continue to lead the area with the latest technology for heart care with the TAVR procedure."
The Bayfront Health Port Charlotte Structural Heart Team, which includes interventional cardiologists, cardiac surgeons, a structural heart and valve coordinator, and multiple interdisciplinary staff, takes a rigorous, multidisciplinary approach to patient care to provide appropriate patient selection. When the patient is seen for evaluation, the team assesses the patient and work closely with referring physicians and staff to develop a treatment plan best suited for the patient's needs.
About Bayfront Health Port Charlotte
and Punta Gorda
Bayfront Health Port Charlotte (opened 1962) and Punta Gorda (opened 1947) are both accredited hospitals by The Joint Commission and part of a regional network of seven hospitals along the I-75 corridor. The Port Charlotte campus consists of a 254-bed full-service facility offering comprehensive services in emergency care, comprehensive stroke center, and orthopedics. The Bayfront Baby Place is the only licensed obstetric and pediatric unit and Level II neonatal intensive care unit in Charlotte County, as well as the only facility in SWFL—and 1 of 4 in the state—to receive The Joint Commission Perinatal Care Certification. The Southwest Florida Heart Center offers all-private rooms and is an accredited chest pain center with PCI providing comprehensive cardiac services for more than 30 years. And the robotics program is the largest and longest running in the County offering surgical options for gynecology, general surgery, colorectal, urology and bariatric weight loss surgery, as well as total knee, total hip and partial knee replacement which is an exclusive in the area. The Punta Gorda campus offers all-private patient rooms, and consists of a 208-bed facility offering an accredited primary stroke center, The Joint Commission Certified Joint and Spine Center, an accredited chest pain center, and emergency care services. Additional on-campus services include outpatient and adult inpatient psychiatric care at Riverside Behavioral Center, an accredited Wound Care and Hyperbaric Medicine facility, and Wellness and Rehabilitation Center. To learn more, visit www.BayfrontCharlotte.com. Trust has a name – Bayfront Health.
Bayfront Health Port Charlotte
2500 Harbor Blvd., Port Charlotte, FL
809 E. Marion Ave., Punta Gorda, FL
Bayfront Health Accepts most Major Insurance Plans