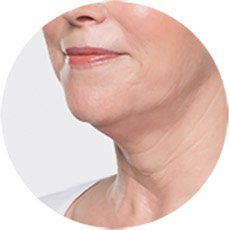 In the spirit of this holiday season, we joyfully celebrate with family and friends, attend holiday parties, special events and shop till we drop, but alongside of all of the "Fa La La" often comes a bit of stress, overindulgence and rushing from here to there.
This fast-paced time of year can wreak havoc on our skin from dehydration, a poor diet, lack of sleep, and anxiety. Along with those issues, many of us might be noticing a little more submental fullness in our faces. Is it the overindulgence, or is it aging? If you're growing tired of the "double chin" that's formed, there is an FDA-approved treatment that's easy, efficient and highly effective.
Sweet Spot Medispa in Fort Myers, Florida, is a medically supervised aesthetic practice in the Epic Salon & Suites complex that offers an extensive range of fat-reduction treatments, including injection lipolysis using KYBELLA®. KYBELLA® is the only FDA-approved injectable treatment that destroys fat cells in the treatment area under the chin to improve your profile.
What is injection lipolysis?
Injection lipolysis uses the chemical deoxycholic acid to disrupt and kill fat cells in the treatment area. KYBELLA® has FDA approval for this purpose and is an effective alternative to surgery.
Your practitioner marks a grid pattern on the skin under your chin and numbs your skin with a local anesthetic. They then inject the KYBELLA® into the grid to ensure even distribution. After the procedure, you may experience some:
• Swelling
• Bruising
• Mild pain
• Redness
You may also feel some hard spots under your skin, but these diminish quite quickly.
When will I see the results of my fat-reduction treatment?
After your injection lipolysis session, it takes 6-8 weeks for most patients to see a visible reduction in their double chin. Typically, patients need a second treatment 4-6 weeks after the first, and some patients need as many as six treatments in total.
At first, your double chin is likely to look worse because of the inflammation, but once this subsides and your body disposes of the dead fat cells, you'll see the final results. Unless you gain a significant amount of weight, the results of KYBELLA® treatment are permanent.
Why Choose Sweet Spot MediSpa?
If you're looking for high-quality facial and body rejuvenation in Southwest Florida, there's a hidden gem awaiting your discovery within the Epic Salon & Suites complex in Fort Myers. Sweet Spot Medispa is a medical spa that provides outstanding customer service and an extensive range of aesthetic treatments, all delivered under qualified medical supervision.
Owner Amy Ingle, APRN, and her colleagues Christy Clark, PA, and Wendy Pfeiffer, APRN, work tirelessly to provide their clients with the most effective treatments for every aesthetic need, all delivered in a warm and welcoming environment that's guaranteed to have you feeling comfortable and relaxed.
The medical aesthetics practice offers a variety of restorative options, including dermal fillers, chemical peels, platelet-rich plasma (PRP) treatments, fat-reduction injections, and intimate rejuvenation therapies designed to improve sexual health.
If you want the highest standards of care and a team of experts whose aim is to restore your youthful appearance and improve your physical well-being, Sweet Spot MedisSpa is the place to go.
What better time of year to gift yourself, or the ones you love with a few antiaging products or treatments. Contact Sweet Spot MediSpa today!
Sweet Spot MediSpa
4989 S. Cleveland Ave
Fort Myers, FL 33907
239-789-3098
sweetspotmedispa.com