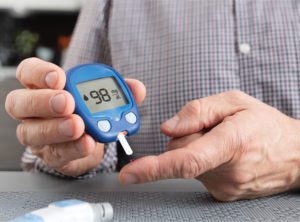 Roughly 10% of the population lives with diabetes, generating a societal cost of $327 billion per year.1 The prevalence of diabetes is expected to increase 55% over the next 15 years, creating an even larger strain on healthcare systems.2 Improving self-management of diabetes could go a long way toward ameliorating the growing burden of this deadly disease. This will be especially true among geriatric patients where the prevalence is much higher, morbidity and comorbidities are greater, and healthcare spending is more significant.3 In fact, six-visit home nursing programs for senior citizens are already demonstrating improved diabetes management habits, and the programs pay for themselves in reduced healthcare spending after only six months.4
When diabetic patients present with lab values exceeding established parameters, this is always a trigger for renewed education efforts. When those education efforts fail to achieve the needed results, care planners should also consider the possible role of unmet personal care needs. Mild cognitive impairment may interfere with diet or medication adherence. Transportation limitations may contribute to primary medication non-adherence. Family caregivers may do the cooking or shopping and may need coaching. Mobility limitations may contribute to an over-reliance on convenience foods. Doctors and other care planners who notice the potential for unmet home care needs can offer a no-obligation, in-home consultation from a McKenney Home Care nurse. Where long-term needs exist, private-duty aide services with nursing supervision are a good solution. The aides at McKenney Home Care have specific training in the needs of elderly patients with diabetes.
Private Home Care for Diabetic Patients Can Include:
• Activities to ensure diet adherence
– Grocery shopping for the patient and/or accompanying patients to the grocery store
– Meal preparation
– Helping clean out pantries and refrigerators
– Monitoring hydration
– Nurse-led training for patients and family caregivers (under doctor's orders)
• Exercise and mobility assistance to improve activity for glycemic control
• Medication and testing adherence
– Aide services for reminders, queuing for self-testing, and assistance with self-administered medications
– Nurse services for lab draws and for medication administration if the patient is unable
– Transportation assistance and accompaniment to medical appointments to better receive information from prescribers
• Skin care
– Aide services for thorough bathing with appropriate supplies, application of non-medical lotions in hard to-reach places, and observation for skin health
– Nursing services for at-home foot care (under doctor's orders) and wound care
McKenney Home Care in Naples, FL hosts a Lewy Body Dementia Support Group on the first Wednesday of every month.  This ongoing support group is approved by the Lewy Body Dementia Association in Atlanta and is in affiliation with the Parkinson's Association of SWFL and the Alzheimer's Support Network.
McKenney Home Care provides exceptional in-home health services and client-centered care. With a passion for maximizing the quality of life of their clients and their families, they are driven to ensure social engagement and specialty services during all stages of life.
For Individuals with neurodegenerative disorders, McKenney Home Care delivers enriched specialized training for its caregivers working with Dementia Patients. In addition to specialized videos and manuals, McKenney educates the caregivers through the use of the Virtual Alzheimer's App. This virtual reality experience helps caregivers understand the feelings and experience of those suffering from Alzheimer's and other forms of Dementia.
Along with their medical expertise, McKenney Home Care is a certified Music & Memory Agency. Providing help for Dementia Patients; this specialized music therapy program is highly personalized and has been shown to reduce the need for anti-anxiety and antipsychotic drugs by up to 50%, while brining joy to the lives of patients who have Dementia.
If you or someone you know would like more information about McKenney Home Care or the LBD Support Group, please call McKenney Home Care at 239-325-2273, or visit mckenneyhomecare.com.
CALL US TODAY!
239-325-CARE (2273)
9655 Tamiami Trail North #201
Naples, FL 34108
References:
1. American Diabetes Association. Economic costs of diabetes in the US in 2017. Diabetes Care. 2018 May 1; 41(5):917-28.
2. World Health Organization. Definition, Diagnosis and Classification of Diabetes Mellitus and Its Complications: Report of a WHO Consultation. Part 1, Diagnosis and Classification of Diabetes Mellitus. World Health Organization Department of Noncommunicable Disease Surveillance, Available at http://apps.who.int/iris/handle/10665/66040 Accessed 2/7/19.
3. Sue Kirkman M, Briscoe VJ, Clark N, Florez H, Haas LB, Halter JB, Huang ES, Korytkowski MT, Munshi MN, Odegard PS, Pratley RE. Diabetes in older adults: a consensus report. Journal of the American Geriatrics Society. 2012 Dec;60(12):2342-56.
4. Markle‐Reid M, Ploeg J, Fraser KD, Fisher KA, Bartholomew A, Griffith LE, Miklavcic J, Gafni A, Thabane L, Upshur R. Community Program Improves Quality of Life and Self‐Management in Older Adults with Diabetes Mellitus and Comorbidity. Journal of the American Geriatrics Society. 2018 Feb;66 (2):263-73.