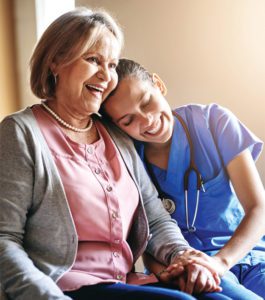 The way that people desire to age depends on their circumstances such as health, finances, personal interests, and planning capabilities. Many people want to live in a 55+ community with their spouse to enjoy maintenance-free living with fantastic amenities and social activities. But what happens when you need more? What do you do when a loved one has a health condition that requires constant care? Again, it depends on the individual's preferences, aptitude, and financial means.
According to the AARP, 10,000 baby boomers turn 65 each day. While many hope to age gracefully, 70% of those 65-year-olds need long-term care. As individuals age, of course, that number rises with unexpected health disorders or needing extra help to manage daily activities.
Senior Housing Options:
Stay in Your Home with No Additional Help
Many spouses and partners want to be the caregiver, and with the rise of Alzheimer's Parkinson's and dementia, numerous people are trying to provide care for their loved one in comfort of their own home. While this may be a good option at first, it can be daunting for one to attempt to give adequate and necessary care as the conditions progress. There may be issues with their loved on becoming combative, not having control of their bowels or urine, not being able to eat or bath, and certainly not being able to stay home alone or to accompany the caregiver out in public. Over time, it can be challenging for these patients to walk, listen to instruction, or comprehend even the most menial requests or tasks.
Home Health or Private Duty Home Care
Depending on a person's health disorder(s) and severity, they may desire to stay in their home. In this case, home health is appropriate in certain situations. A home health nurse usually will stop by one to multiple times per week to offer a therapy session or to administer medications and check vitals. Home health is NOT the same as private duty home care. The latter involves a medical aid, assistant or staff member to help with bathing, cooking, shopping, and other personal care needs.
Assisted Living
Assisted living housing facilities offer care for seniors that can no longer live independently. It offers a group-living environment with social activities, restaurants or dining areas, lounges, pools, wellness centers, and other amenities along with 24/7 health and medical care.
Skilled Nursing
Skilled nursing is basically another word for a nursing home. Individuals with progressed conditions may need to be placed in one of these types of facilities in order to receive round the clock total care. Nursing homes are typically for Medicaid patients.
The Pineapple House at Sapphire Lakes in Naples
The Pineapple House is part of Concierge Senior Living, which is an experienced, professional senior living organization devoted to achieving excellence in senior communities. They are driven by the firm belief that all residents should be encouraged to live active, fulfilling lives with enriching experiences, and that a new and exciting chapter in their lives is just beginning.
The Pineapple House offers two distinct options for their residents to choose from depending on their needs.
All programs include three gourmet meals a day, access to 24-hour licensed nursing personnel, access to our on-site medical and therapy services, weekly housekeeping services, maintenance of your apartment and a full schedule of activities programming. Residents can choose the one that best suits their personal needs.
You will have a choice of a studio, one-bedroom, and two-bedroom footprint living spaces. Apartment features include courtyard or garden vistas, balconies or porches on select apartments, stainless steel appliances in kitchens, quartz countertops, keyless apartment entry access (RFIDs), flat-screen TV in living room, zero-entry showers with fold-down seats, height-adjustable shower heads, tilted mirrors over vanities, mirrored medicine cabinets, walk-in closets, individually controlled heating and air conditioning and an emergency nurse call response system with pendant.
The Pineapple House also offers Memory Care residences that are designed and function with purpose, in that they encourage socialization in every aspect of a resident's daily routine while inviting common areas provide the ambiance to nurture cognitive stimulation in a serene environment with a fresh interior design appeal.
• Formal, casual, private and patio dining venues
• An elegant formal bar as well as a casual bistro
• An inviting outdoor pool with lounge seating
• Beautifully landscaped outdoor courtyard
• State-of-the-art theater featuring a 125″ screen
• An industry-leading fitness and wellness
• Refined, upscale meals created by professionals
• A media center, card room, and arts and crafts
• 24-Hour personalized nursing care service programs
• A serenity room for services, meditation, and reflection
To find out more about our amazing pre-opening pricing, call us at 239.259.0707, or visit pineapplehousenaples.com. The Pinapple House.