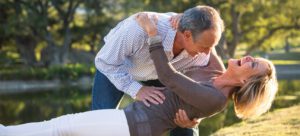 In today's world, we're much more educated now about healthy diets and the importance of exercise and limiting stress, but what doesn't garner much attention is the importance of intimacy and sexuality. Being sexually intimate has the ability to increase overall health benefits. So, how does this one aspect make us healthier? It has to do with the release of major hormones and chemicals that our bodies need on a regular basis. It's a mind, spirit, body connection on a medical level, which includes benefits such as lowered stress hormones, brain function improvement, better sleep, enhanced bone health, and an increase in mood and pleasure, to name a few.
But what happens if you struggle with intimacy? For men, there are pills, injections, and other quick fixes, but for women, they often suffer in silence. In fact, many women believe their issues are a common condition chalked up to aging, and that there is nothing that can be done to help them. However, nothing could be further from the truth!
Along with physical bodily changes and loss of sensations due to childbirth, sexual disorders in women are often due to vaginal atrophy. Intimacy issues can also equally affect one's partner's psychological wellbeing and cause undue tension on the relationship. Dyspareunia (painful sex) is a symptom of vulvar and vaginal atrophy (VVA). You're not alone; painful sex is a very common disorder.
Vulvar and Vaginal Atrophy
The truth is that many pre and postmenopausal women, and also women who have recently gone through childbirth, can have vaginal disorders, like burning, dryness, and pain that they often withhold and keep to themselves. Most women think that it's just a "normal" part of the hormonal process, but they don't have to live with this condition! There are options to relieve and reverse vaginal and vulvar atrophy.
What is VVA?
Due to the limited estrogen supply, the walls of the vagina start to thin out, causing dryness, and inflammation. This can make intercourse very painful, can cause urinary disorders, and can even interfere with daily activities for many women due to the extreme pain and discomfort that it can cause.
There are many options for women, like creams, medications, and surgery. When these options fail or are contraindicated, women should consider an innovative procedure that has no side effects and only takes a few minutes to perform right in the convenience of the office-setting. This advanced technology is called MonaLisa Touch®, and it has helped numerous women find restoration within their relationship and has helped them to get their confidence and sexual health back.
MonaLisa Touch®
Non-Hormonal Advanced Treatment
An advanced technology called the MonaLisa Touch® is a new laser therapy for the vagina and vulva. There are no medications, no cutting and no lengthy healing times with this procedure. It's similar to having a Pap smear test done. The laser does not hurt or cause any pain. You will only feel tiny vibrating sensations from the machine, and the best part is that the entire procedure is accomplished in an outpatient, office setting.
MonaLisa Touch® is a functional vaginal rejuvenation treatment based on a unique fractional CO2 laser. This device was created specifically for the vaginal mucosa and is presently the most effective procedure for preventing and treating vaginal atrophy and its painful conditions.
Now it's possible to have relief from vaginal and vulvar atrophy due to the MonaLisa Touch's® ability to gently improve the tissue of the vaginal mucosa. The laser stimulates the production of collagen, improving the functionality of the treated area and restoring the proper trophic balance to the mucous membrane.
Rejuvenation
You and your partner will both benefit from this procedure, as intercourse will be pain-free and pleasurable once again. MonaLisa Touch® allows restoration, healing, and a renewed enjoyment of each other. You'll be amazed at how effective this procedure gets you back to where you once were in your relationship.
Women's Healthcare Physicians of Naples
Women's Healthcare Physicians of Naples strives to provide compassionate obstetrics and gynecology care to women living in the Naples, Florida, area. The team of board-certified physicians brings extensive experience and a diverse range of specialties to their patients, who know they can count on getting personalized attention and top-quality health care.
Patients at Women's Healthcare Physicians of Naples have access to preventive care, well-woman exams, complete family planning, preconception, infertility services, and expert diagnosis and treatment of complex issues like pelvic organ prolapse and maintaining optimal wellness during and after menopause.
Monalisa Touch
(239) 262-3399
www.monalisatouchnaples.com
Max L. Kamerman, MD, FACOG
Laura Cavin, MS, PA-C
Jocelyn Jackson, APRN