By Russell Becker, DO, Vascular Surgeon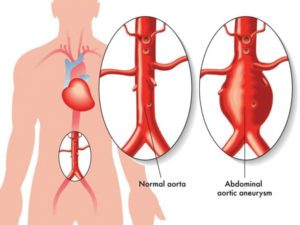 An aneurysm is a balloon-like bulge and is caused by a weakening of an arterial wall due to a localized area of enlargement, which can cause a bleeding issue or a rupture to occur. Regarding the abdominal artery, aneurysms can occur because of the pressure and blood flow needed for the legs and body, which can cause a great deal of damage over time.
Unfortunately, an abdominal aortic aneurysm (AAA) is common. The larger they grow, the more likely a rupture will occur. Approximately 200,000 individuals are diagnosed with an abdominal aortic aneurysm every year.
AAA Symptoms
• Intense Abdominal pain
• Back pain
• Chest pain
• Flank pain
• Dizziness nausea
• Shortness of breath
• Belly button pulsations
• Foot feels cold to touch
• Black or blue toe
• Infection (fever, weight loss)
The first step to accurate diagnosis is an ultrasound, abdominal CT scan, or an angiography. Depending on the location of the aneurysm within the aortic artery and its size, the appropriate treatment can be decided and discussed with your physician. Large aneurysms or those that are proliferating will likely need surgical repair. Smaller, slow-growing aneurysms can usually be monitored every few months.
AAA Risk Factors
• Arterial plaque (atherosclerosis)
• Hypertension
• Blood vessel disease or damage
• Family history
• Having an aneurysm somewhere else in the body
• Trauma
• Infection
• Smoking
Abdominal Aortic Aneurysms are life-threatening. In fact, they are the 15th leading cause of death in the U.S. in people over the age of 65, but it can happen to much younger individuals as well depending on their risk factors and lifestyle.
Treatment
Lifestyle changes and monitoring symptoms are essential if you are at high risk and/or diagnosed with a weakened aortic artery.
Surgical Procedures
• A vascular stent and graft can be placed to reopen and secure the damaged artery. This is typically done with open surgery for a graft and minimally invasive for a stent.
• An endovascular aneurysm repair is a surgical procedure to repair the aneurysm bulge in the aorta to prevent rupture or bleeding issues.
If you or someone you know is having symptoms of AAA, don't wait! See your physician immediately, or in the case of ruptures and emergencies, call 911!
Vascular Center of Naples
5490 Bryson Dr. Suite 201
Naples, FL 34109
239-431-5884
www.vascularcenternaples.com
Russell Becker, DO, Vascular Surgeon
Dr. Becker received his fellowship training in vascular and endovascular surgery at Wayne State University in Detroit. He is board-certified by the American Osteopathic Board of Surgery, he's a fellow of the American College of Osteopathic Surgeons, and he retains active memberships with the Society for Vascular Surgery and the Florida Vascular Society.
Dr. Becker has experience and interest in all areas of vascular and endovascular surgery, including treatment of conditions like carotid artery disease, hemodialysis access creation and maintenance, and diseases of the veins.
Beyond performing surgery, Dr. Becker is a well published author of vascular surgery literature. He has previously served as an investigator in numerous new and developing clinical device trials and has been a part of the clinical faculty in vascular surgery at Michigan State University College of Human Medicine in East Lansing, Michigan.